PISTON PUMPS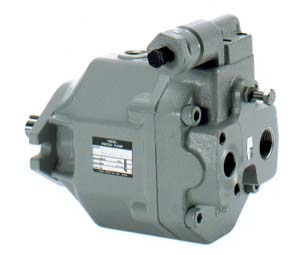 AR Series Variable Displacement Piston Pumps
These AR series pumps have been develOpea on me uasls ui the same design concept as A series pumps which are renowned for high efficiency and low noise level.
Using an alminum body, the size of the pump is more compact and the mass is considerably reduced. The noise level has also been reduced.
A Series Variable Displacement Piston Pumps
With the well—known low noise level and a new addition of A70, A90 and A145 pump versions having the maximum pressure upto 28MPa , A series pumps have much more extensive coverage in their line up and specifications. Ten control types are available ranging from pressure compensator control to proportional electro—hydraulic pressure/flow control.
AH Series Variable Displacement Piston Pumps
AH series are variable displacement piston pumps of high pressure, high efficiency, high speed and low noise developed by Yuken's unique design concept and cumulative technologies. They are suitable for use with construction machinery and various industrial machinery ranging from presses to injection moulding machines.
Click on a line of the table below to advance to the corresponding section of our catalog