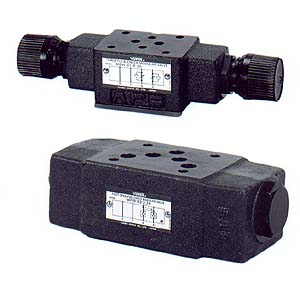 MODULAR VALVES
YUKEN MODULAR VALVES are designed to simplify hydraulic systems, to eliminate the use of pipe connections and thus to save space, time and costs. The modular valves have standardized interfaces (ISO 4401, CETOP, NFPA) and thickness in accordance with each valve size. Any hydraulic circuit can be composed by stacking the modular valves in the correct sequence one upon another and bolting the various stacks to a common manifold base.
•Modular valves remarkably minimize the installing area and space.
•No expert skill is required to assemble, and furthermore, a supplement and a change to the circuit can easily and quickly be carried out.
•Problems such as oil leaks, vibration and noise which may arise from pipes and tubes are minimized because pipes and tubes are not necessary.
•Checks and maintenance of these valves can be performed with ease because of the method of installation.
Click on a line in the table below to advance to the corresponding section of our catalog.